To prepare the fish, clean the shells and squid, cut the fish fillets in 4 pieces and the squid in strips.
Fill one third of the Vitaliseur's vat with water and boil. To prepare the vegetables, peel the carrots and peas, cut the broccolis in small bunches, pluck the leaves off the Swiss chard and cut the vegetables (carrot, zucchini) into thin strips using a peeler or a slicer.
Cook all vegetables on the Vitaliseur's sieve (must keep them crunchy) then put them aside in 4 soup plates.
Make the flavored broth : in a saucepan, boil the fish or vegetable broth, then add coriander, Thai basil, 4 sticks of ngo-nga and a bit of combava zest. Cover with clingfilm, turn off the heat and let brew for 10 minutes, then get the broth through a fine sieve.
Fill a quarter of the Vitaliseur's vat with water and boil. Place the lemongrass on the sieve, mince the Thai basil and 4 sticks of ngo-nga that you lay on the sieve as well. Over it, lay the fish and shells. Cook covered for 4 to 5 minutes.
For finish and presentation, steam your vegetables again, place them in the plates, with the fish and shells over it, pour the hot broth in the plate, then sprinkle with fleur de sel and a bit of combava zest.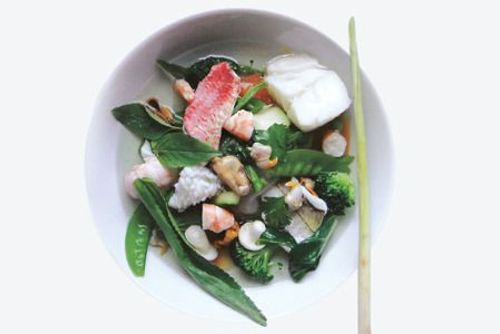 Preparation
30 min
Cooking
15 min
Ingredients
for 4 people
4 pieces of 50 gr cod
200 gr of cockles
100 gr of smoked haddock
4 Dublin Bay prawns
4 small squids
2 whiting fillets
4 organic prawns
2 red mullet fillets
1 lemongrass stick
1 bunch of coriander
1 yellow carrot
1 carrot
1 zucchini
100 gr of peas
100 gr of mini asparagus
100 gr of snow peas
1 mini Swiss chard
200 gr of broccoli
1 combava
1 bunch of Thai basil
1 bunch of ngo-nga (pho herbs)
1/2 fish aroma or clear vegetable broth