Fill one third of the Vitaliseur's vat with water and boil. Salt the meat and leave it to chill for 10 minutes.
Place the pieces of meat along the veal bones on the Vitaliseur's sieve and cook for 20 minutes.
Meanwhile, heat a big saucepan full of mineral water.
Place the pre-steamed meat in this hot water. Start to simmer.
Meanwhile, peel the leeks. Keep the white parts and save the green ones for the broth. Jab 2 onions with the cloves. Cut 4 carrots in length without peeling. Cut the celery sticks in 3 sections. Wash all these vegetables and put them to steam for 10 minutes. This will cleanse them from all their toxins. Then add them to the meat broth. Let simmer for 2 to 3 hours depending on how melty you like the meat.
Thirty minutes before eating, peel the rest of the vegetables : turnips, carrots, leek whites, onions and potatoes. Fill one third of the Vitaliseur's vat with water and boil. Cut them in big pieces and cook them on the Vitaliseur's sieve for 20 minutes, covered. Add the steamed marrowbones after 10 minutes.
Then immerse these marrowbones into the broth and keep the vegetables warm aside.
Serve the meat sliced in a large dish. Place the vegetables all around it. Serve the broth in the tureen.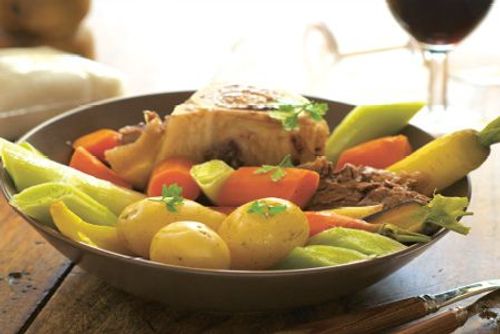 Preparation
40 min
Cooking
50 min + 2h
Ingredients
500 gr of oxtail
500 gr of meat-wrapped ribs
500 gr of ox cheek or beef shoulder
2 veal bones
6 cloves
4 onions
6 carrots
6 turnips
10 potatoes
4 leeks
3 celery sticks
1 bouquet garni
6 marrowbones
Coarse salt